How to use the Self Cleaning Feature on Frigidaire Professional Kitchen
The Frigidaire Company produces several different types of home appliances, including cooktops, ovens, microwaves, refrigerators, dishwashers, freezers, washers, dryers, air conditioners and more. The company's Professional series of ovens include such features as self-cleaning, convection cooking, quicker preheating, and a variety of cooking options for specific foods, such as pizza and chicken nuggets. Using the self-clean cycle in a Frigidaire Professional oven is a relatively simple process.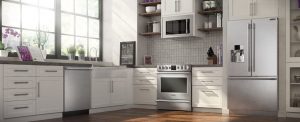 Do you love this kitchen? Shop for it
Step 1
Remove all oven racks, pans and utensils, as well as any aluminum foil present inside the oven.
Step 2
Wipe down the interior of the oven and the oven door with a clean, damp cloth to remove any excess food spills or residue. Do not clean the gasket on the oven door. Use warm, soapy water if necessary to remove the food spills; then follow with a clean, damp cloth.
Step 3
Ensure the oven clock displays the current time. If not, press "Clock," then the up or down arrows to set the correct time. Press "Start" to confirm. Close the oven door.
Step 4
Press "Self Clean" once for a three-hour cleaning time, recommended for standard cleaning; twice for a four-hour clean, recommended for heavy-duty cleaning; and press three times for a two-hour clean, recommended for light cleaning. Press "Start."
Step 5
Wait for the "door Loc" and "CLn" displays to appear, indicating cleaning has started. Do not attempt to open the oven door during cleaning. The oven door will remain locked for up to one hour after cleaning to allow the oven to cool completely. Wait for "Loc" to disappear from the display before opening the oven door.