Mason Jars-I used 1 quart jars.
Frozen fruit and or fresh fruit-I used a little bit of both.
Example: Mixed berry, mango, strawberries, blueberries, bananas, watermelon…the choices are endless!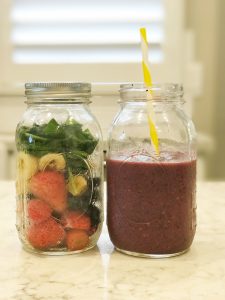 1 cup of your main fruit flavor.
1/4-1/2 cup of other fruit add-ins.
Spinach,
kale or other leafy greens you like. Spinach and kale are two that my kids don't notice.
1/2 to 1 cup of leafy greens
Other optional ingredents that I play around with are honey (1 Tbsp), hemp seed, protein powder, Chia seed, flax seed and so on…
Place fruit in jar with greens on top. Tighten the lid and place in freezer. Easy as that!
When ready to use place fixings in a blender or I have a bullet that works great. Add milk of choice (I use almond milk) about 2/3 full, honey (optional), proteins (optional) and blend.
*Adjust milk depending on desired thickness.
*Add the flax, chia etc…to the smoothie jar and freeze.
*I set my jars out about 10 minutes before use.